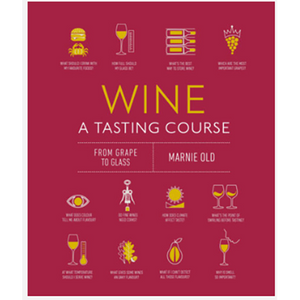 Wine- A Tasting Course - From Grape To Glass
Smell, swirl and taste your way to transforming from wine novice to expert. The pages of this wine book make a comprehensive, no-nonsense wine tasting course that covers every aspect of wine from grape to glass.
Explore the nuances of your favorite red and white and discover new cultivars. Inside, you'll find: 
   • A dynamic course in understanding wine — through tasting and appreciation — with every subject given a high-impact visual treatment.
   • A structure that r
eflects how people approach wine — talking, tasting, and buying wine comes before exploring grape varieties and wine regions.
   • All key wine subjects are covered, shown and explained in an easy-to-understand way.
   • Themed tasting exercises are located throughout the book, encouraging readers to learn at their own pace.
Follow expert wine advice in the latest edition of
Wine: A Tasting Course
. The updated text and refreshed design bring concepts to life like food and wine pairing, identifying the style spectrum, and distinguishing taste and smell. It explores fun wine facts and explodes myths, giving you everything you need to talk, taste and enjoy your favorite vintage.
Can't smell honeysuckle in that glass of sauvignon blanc, or wondering which end of a bottle of chianti is the "nose?" With this immersive guide to all things wine, you'll soon become an expert. Pour over vibrant infographics and learn through "Did you know?" boxes as you try out a selection of taste tests, and get a handle on grape varieties and regions. This wine guide is a beautiful gift for the wine lover in your life, or the book for beginners you've been searching for to enjoy, understand and appreciate wine.