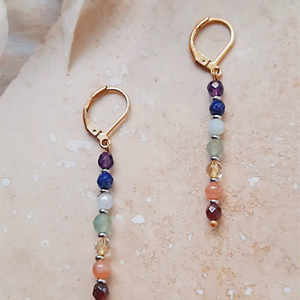 Seven Chakras Earrings
A nice way to align our energies by wearing this cascade of semi-precious stones.
The dangling 7 chakra point earrings mix round and faceted fine stones. Also available as a bracelet.

4mm diameter natural stones: amethyst, lapis lazuli, aquamarine, aventurine, citrine, moonstone, garnet

Water-resistant gold-tone stainless steel combines strength and durability.

Made in France.
Dimensions: 0 x 4 cm (0″ x 1.6″)