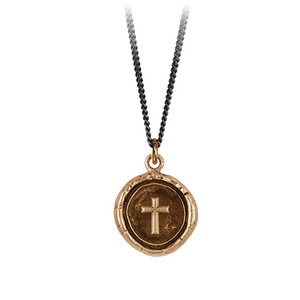 Pyrrha Cross Pendant 18"
This talisman features a hand holding a quill which denotes one who writes. The quill is a symbol of authority, in this case, over words.
As a certified carbon-neutral B Corp, we're committed to environmental responsibility—our jewelry is sustainably handcrafted with 100% recycled metals in our Vancouver studio using antique wax seals and imagery from the Victorian era.
Handcrafted in Vancouver, Canada
Cast in 100% recycled sterling silver or bronze
Sterling silver chain and lobster clasp with Pyrrha branded quality tag
Meaning card (handmade from recycled materials)
Unbleached cotton Pyrrha branded pouch
Pyrrha branded gift box made from 100% recycled paper