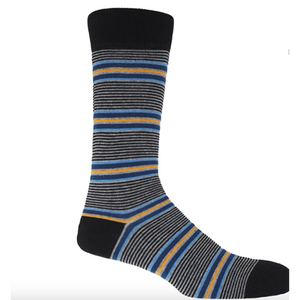 Peper Harow Men's Multistriped Socks Black

Contributing to the extension of our recycled cotton range, the multistripe is an ideal addition to the wardrobe of the timelessly stylish individual. Featuring multi-coloured multistripes, these classically striped socks are exemplary for any outfit.

• knit: 168 needle gauge.
• material: 40% recycled cotton, 40% recycled polyester, 16% polyamide, 4% spandex.
• country: made in england.
• care: wash inside out, with similar colours and at 30 degrees.