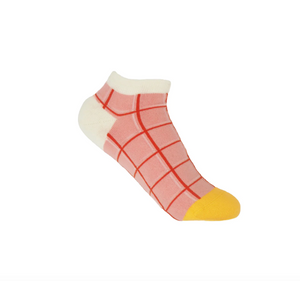 Peper Harow Grid Trainer Socks Pink
About this product
The framework of any sleek outfit starts from the ground up, and with the impeccable grid luxury trainer socks for women, you'll have an adamantine foundation of style. Combining the symmetrical grid with spectacular comfort, these ladies' socks are the perfect addition to any wardrobe.

Sock details
These socks are made from supima cotton - cotton revered around the world as the finest cotton. Our socks are skilfully hand finished with a seamless toe - luxury that ladies expect and deserve. Here at Peper Harow, our stunning yarn is sustainably and ethically grown and sourced. Our supima cotton is indulgently soft to the touch, has natural resiliency and rich deep colour. Our practices ensure we only deal in the finest quality.

Knit: 168 needle gauge.
Material: 82% supima cotton, 17% polyamide, 1% spandex.
Country: made in england.
Care: wash inside out, with similar colours and at 30 degrees.