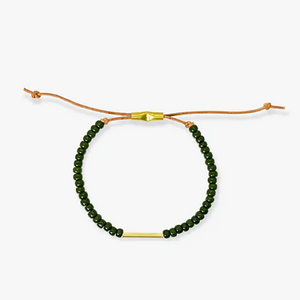 Men's Mesa Bracelet Olive
Unisexy. That's what we call our jewlery, and the Mesa bracelet is no exception!

This adjustable bracelet is a step between our petite Irena Bracelet and our chunkier Shirin Bracelet. Delicate Japanese glass beads and brass accents adorn a sturdy leather cord.

Available with solid brass finishings that will gain a warm patina over time.


Our men's version is made with a longer leather cord for a bigger wrist.