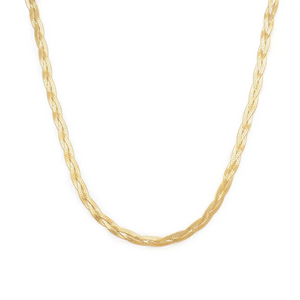 Leah Alexandra Braided Herringbone Necklace
This intricately woven braided gold chain sits flush against your skin and knows how to catch the light just right with three times the shine of our Herringbone Mother Necklace. Please take extra care with this delicate piece by laying it flat when stored and be mindful when taking on and off to not bend the chain.

- Made in 14k gold plated Sterling Silver

- Available in 16"

The chain should be removed when sleeping or doing any strenuous activities. Due to the delicate nature of the links, we are unable to repair kinks and dents that may occur with regular wear.