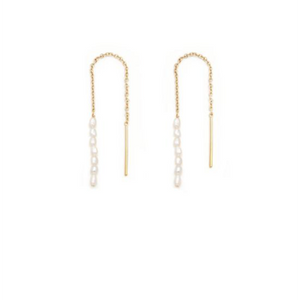 Leah Alexandra Ama Threaders Pearl
Inspired by Japan's famous female pearl divers, also known as Ama, which translates to "women of the sea", these freshwater pearl threaders float along your lobes with delicate beauty. A statement piece that's sure to become a regular in your earring rotation.
Pearls have long been known as the 'Queen of Gems'. Records of the female pearl divers, or Ama, date back as early as 927 AD.
- Freshwater pearls
- 14k goldfill threaders
- Pearl bar measures 1", chain and post measure 3"