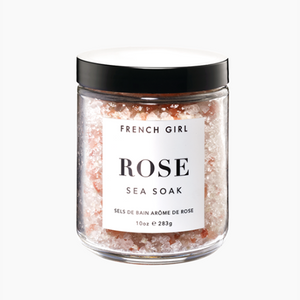 French Girl Rose Sea Soak- Calming Bath Salts
A luxurious rose bath soak made with six salt varieties and infused with the delicate scent blend of rose, ylang ylang and frankincense to soothe aching muscles, soften the skin and energize the mind, body & spirit.
KEY BENEFITS 
Himalayan Pink Salt  helps with relaxation before sleep.
Plant essential oils provide a subtle fragrance without chemical enhancers.
Epsom Salt aids in calming muscles and eliminating toxins.
Bathing in sea salts encourages dermal absorption of miner