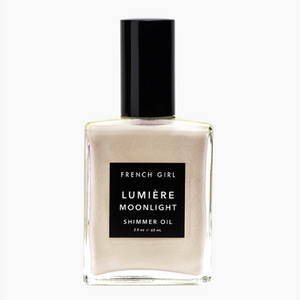 French Girl Lumiere Moonlight Shimmer Oil
A luxurious body oil lightly infused with sensual, floral notes of Rosa Gallica and Amyris Sandalwood and a touch of mineral oxides and pigment while leaving a subtle shimmer & pearlescent glow.
KEY BENEFITS 
Argan Oil sourced from North Africa contains rich, fatty acids essential for skin health.
Organic Shea Butter aids in skin elasticity and provides deep hydration.
Camellia & Sunflower Oils contain anti-aging high oleic and omega fatty acids.
Natural Plant Essential Oils lend a subtle fragrance without chemical enhancers.
Natural Iron Oxides and Micas provide sheer pigment without artificial color or carmine.