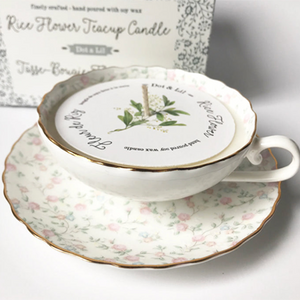 Dot & Lil Teacup Candle Rice Flower
Each teacup candle includes cup, saucer, candle, beautifully printed dust cover and a pretty gift box. 
These new teacups and saucers were designed and made especially for Dot & Lil! We hand pour our classic soy wax candles into them, in our atelier in Montréal. The scalloped edges of the fine bone china cups and saucers are delicately detailed with gold. 
Dot & Lil teacup candles burn for 20-25 hours and the soy wax washes out easily with soap and hot water afterwards, leaving you with a lovely keepsake cup and saucer set. Our finely hand-poured candles are made with a blend of 100% pure soy wax & botanical oils, with a cotton wick. 
Sweet, fresh and soft with a hint of ozone, this isn't your typical floral scent. Light and delicate, with a base of subtle, creamy vanilla and coconut. What are rice flowers? Rice flowers are small perfumed buds that grow on the Aglaia Odorata, or Chinese Perfume Tree.