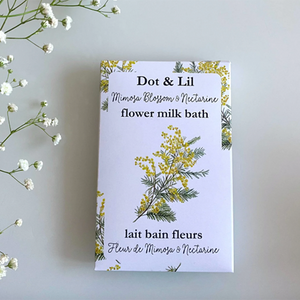 Dot & Lil Mimosa Blossom & Nectarine Bath Sachet
Inspired by heirloom seed packets, these bath sachets with beautiful flower illustrations by Mathilde Cinq-Mars each contain enough milk bath for 1-2 botanical baths surrounded by flower petals.
Dot & Lil's best-selling milk bath has luxuriously moisturizing whole milk powder, with ground oatmeal and baking soda to soften the water and your skin. This super-rich and soothing formula turns the bath water milky, white and opaque and gives you a Cleopatra-like bathing experience. Leaves skin sweetly scented and soft.
The dreamy warm scent of mimosa flowers in bloom, mixed with luscious nectarine. Delicate notes of honey and fresh water underly this elegant fruity fragrance that transports you to springtime in the south of France.
75 g/2.6 oz