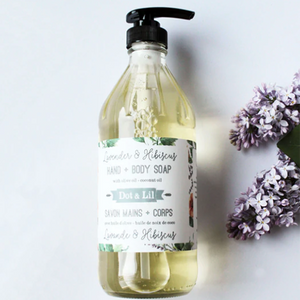 Dot & Lil Lavender Hibiscus Liquid Soap
Pure soaps for hands + body, made with olive oil and coconut oil. This rich and gentle formula can be used at the sink for hands, or in the bath or shower as a gentle cleanser for the whole body. 
473 ml/ 16 fl. oz clear glass bottle. Our Lavender & Hibiscus soap, scented with lavender essential oil, is classic, fresh and herbal. Straight from a garden flower bed! A very soothing and relaxing scent.