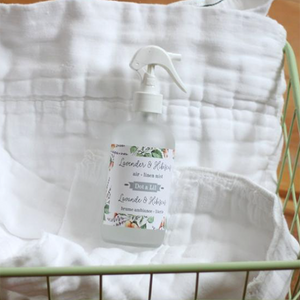 Dot & Lil Lavender & Hibiscus Linen & Air Mist
We're SO excited to share with you guys our new little something : Air + Linen mist! Spray in your favourite room or on your favourite linens for a fresh breeze of flower-y goodness. A new addition to the D&L family!
Spray into the air to scent the room, or onto linens and fabrics as a refresher spray. The 8 oz / 237 ml glass bottle has a sprayer that can be locked, making it easy for travel. 
Our essential oil Lavender scent is fresh and herbal, straight from a garden flower bed! A very soothing and relaxing scent.