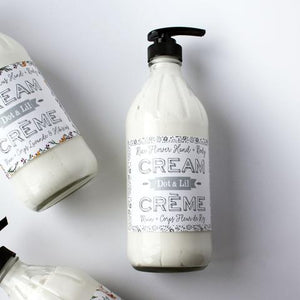 Dot & Lil - Rice Flower Hand & Body Creme
One of the most often requested additions to the Dot & Lil line, we are proud to finally launch our first ever cream! Our hand + body crèmes are made with a rich and emollient shea butter and coconut oil formula that deeply moisturizes and protects skin. An elegant glass bottle that matches our liquid soaps and milk baths. Comes with a beautiful gift tag with floral illustration.
Rice Flower is sweet, fresh and soft with a hint of ozone. This isn't your typical floral scent. Light and delicate, with a base of subtle, creamy vanilla and coconut. What are rice flowers? Rice flowers are small perfumed buds that grow on the Aglaia Odorata, or Chinese Perfume Tree.
16 fl oz / 473 ml glass bottle