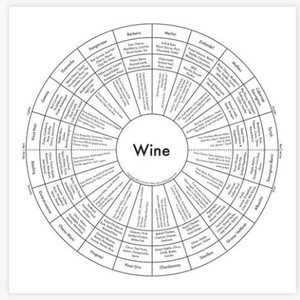 Archie's Press Print "Wine"
When you go to the wine store, how confident are you? If you're like most people, you probably grab something off the shelf and pray that it's good. This chart can help. By dissecting the most important descriptors for each varietal, this map breaks down a very complicated set of information. We consulted with several somaliers who were very hard to please, and finally, they were! Contains information for both red and white wine, their ideal pairings and some interesting facts that will make you seem very smart at your next cocktail party. 
Of course, there is literally no end to the amount a person can know about wine. Consider this a "Cliffsnotes" to get you to stage one snobbery.
Pairs well with Beer, Spirits and Cheese

Built with help from friend Mat Elmore of Must Wine Blog. 
ABOUT THE IDEA
Information is more fun to read when it's beautiful. I've designed these charts and maps with hours of research, reassembling data into a brain-friendly aesthetic. I edit the information significantly, avoiding the "dazzle" effect which occurs when our eyes are battered with too much information. Letterpress makes it even more gorgeous.
ABOUT LETTERPRESS PRINTING
Letterpress is a very complicated and expensive printing method that I am obsessed with. All letterpress prints are slammed with 600 pounds of pressure, creating a deep, tactile texture. The ink gets embedded into the thick soft paper so it won't fade within your lifetime.