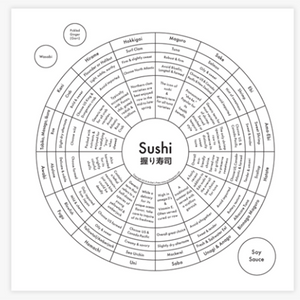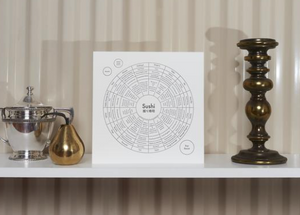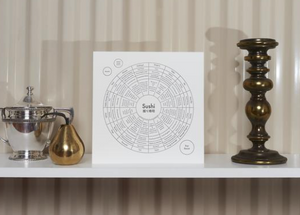 Archie's Press Print "Sushi"
I think good sushi is the most perfect food. The only problem is that there is never the "right amount" of sushi. It's either too much or too little. You know what I mean? Like if I go to a Sushi restaurant and I feel nervous that I'm spending too much money, I won't eat enough and I'll need a slice of pizza later. But if I go crazy, I get so full of sushi that I'm bogged down by a rice overdose.
The best sushi Ive ever had has been in Japan (unsurprisingly), literally anywhere. 7-11, a subway station, the fish market, a fancy omokase, it's all amazing.
The chart here explains the English and Japanese name of each fish, what's so special about them, its sustainability, and some other surprising/interesting facts that will affect how you think about Sushi.
A collaboration with Alli Miller, NYC-based artist.
ABOUT THE IDEA
Information is more fun to read when it's beautiful. I've designed these charts and maps with hours of research, reassembling data into a brain-friendly aesthetic. I edit the information significantly, avoiding the "dazzle" effect which occurs when our eyes are battered with too much information. Letterpress makes it even more gorgeous.
ABOUT LETTERPRESS PRINTING
Letterpress is a very complicated and expensive printing method that I am obsessed with. All letterpress prints are slammed with 600 pounds of pressure, creating a deep, tactile texture. The ink gets embedded into the thick soft paper so it won't fade within your lifetime.
8x8"